Audit Wales highlights inconsistencies in fire and rescue responses to false alarms
Audit Wales highlights inconsistencies in fire and rescue responses to false alarms
No Fire and Rescue Authority has a comprehensive approach to quantifying the impact of false fire alarms, despite such calls making up around half of all those received
Our report published today outlines themes from our local work on how Fire and Rescue Authorities in Wales are reducing false alarms.
In 2022-23, we looked at the way in which the three Fire and Rescue Authorities (FRA) in Wales are managing false alarms in non-domestic properties. Our national report looks at our key findings from local reviews of each Welsh FRA and gives a comparative picture of the demand and different responses across Wales.
False alarm data is split into three different categories – 'malicious', 'good intent' and 'due to apparatus'. Just under 60% of false alarms in Wales, and the biggest number by far, are those due to apparatus. These are usually caused by Automatic Fire Alarms (AFAs) – systems which notify FRAs of a potential fire. These activations are rarely caused by an actual fire and are often because of simple causes like alarm tests or burnt toast.
Fire and Rescue Authorities can decide if and how they respond to AFAs, and all three FRAs in Wales have adopted different policy approaches. For example, North Wales FRA has seen a dramatic reduction in attendances at non-domestic false alarms as a result of a policy it originally introduced in 2014-15. Its policy sets out that the Service will not respond to AFAs in non-domestic properties unless a back-up 999 call is made to confirm a real fire, with a few exceptions for high-risk properties such as hospitals. Both Mid & West, and South Wales Fire and Rescue Authorities still attend most AFAs but have adopted different approaches to seek a reduction in attendance. These include seeking confirmation of a real fire before mobilising an emergency response or sending fire appliances travelling at normal road speeds for suspected false alarms, rather than on blue lights. Proportionally, both Mid & West and South Wales FRAs respond to significantly more false alarms compared to North Wales FRA.
The impact of responding to false alarms is far reaching. Not least, it further stretches the capacity and availability of firefighters. Our report highlights the need to consider the impact of false alarms in the context of FRAs' challenging operating environment. For example, our report shows that FRA personnel reduced by 11.3% between 2009-10 and 2021-22. Responding to false alarms also impacts on carbon emissions and road safety, and the financial impact is likely to be significant. Despite this, we found that no FRA had a comprehensive approach to quantifying the impacts of false alarms.
Looking to the future, Welsh Government has set a new policy direction for Fire and Rescue Authorities. This includes broadening the role of firefighters, for example, to help ambulance crews. Realising this ambition requires overcoming challenges around the capacity and availability of firefighters.
Fire and Rescue Authorities provide services that we hope we'll never need, but they are operating in an increasingly difficult financial environment. To ensure their risk-based approaches are sustainable it's important that they learn from each other and focus on reducing any inefficiencies in how they manage false alarms.
Auditor General, Adrian Crompton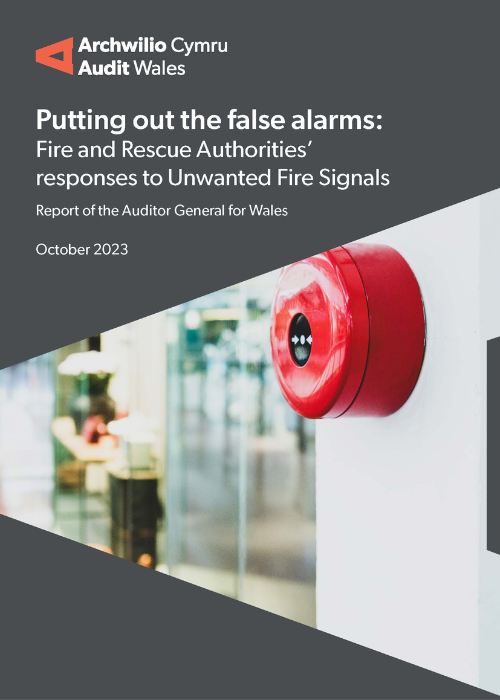 Putting out the false alarms: Fire and Rescue Authorities' responses to Unwanted Fire Signals