Annual Report and Accounts 2021-22

Public Sector Readiness for Net Zero Carbon by 2030

Pembrokeshire County Council - Assurance and Risk Assessment…

Sustainable Tourism in Wales National Parks

Third Sector COVID-19 Response Fund - Memorandum
An overview of Quality Governance Arrangements at Cwm Taf Morgannwg University Health Board: A Summary of progress made against recommendations
Our joint report provides a progress update against the original 14 recommendations made in our 2019 joint report.
Background
In November 2019, we worked with Healthcare Inspectorate Wales (HIW) to complete a joint review of quality governance and risk management arrangements within Cwm Taf Morgannwg University Health Board.
This work followed a report by the Royal College of Obstetricians and Gynaecologists and the Royal College of Midwives which identified a number of serious concerns and service failings with maternity services.
We made 14 recommendations for improving risk management, the handling of incidents claims and complaints (concerns), patient safety and organisational culture. The Health Board fully accepted the findings and began to respond to the report's recommendations.
Where are we now
We found that the Health Board is making good progress to address the recommendations that we made in 2019, particularly when taking account of the challenges it has faced in responding to the pandemic.
We noted considerable commitment, drive, and enthusiasm from the Health Board and a clear desire to get things right.
Despite the good progress we have recognised through our follow up, there is still work to do in each of the areas where we made recommendations in 2019. Therefore, each of the recommendations remain open.
Related News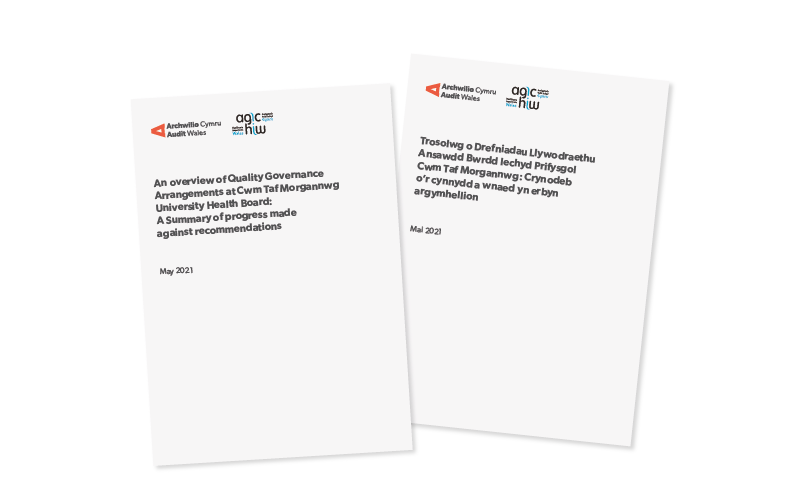 Health Board makes good progress to address recommendations despite the pandemic, says joint report